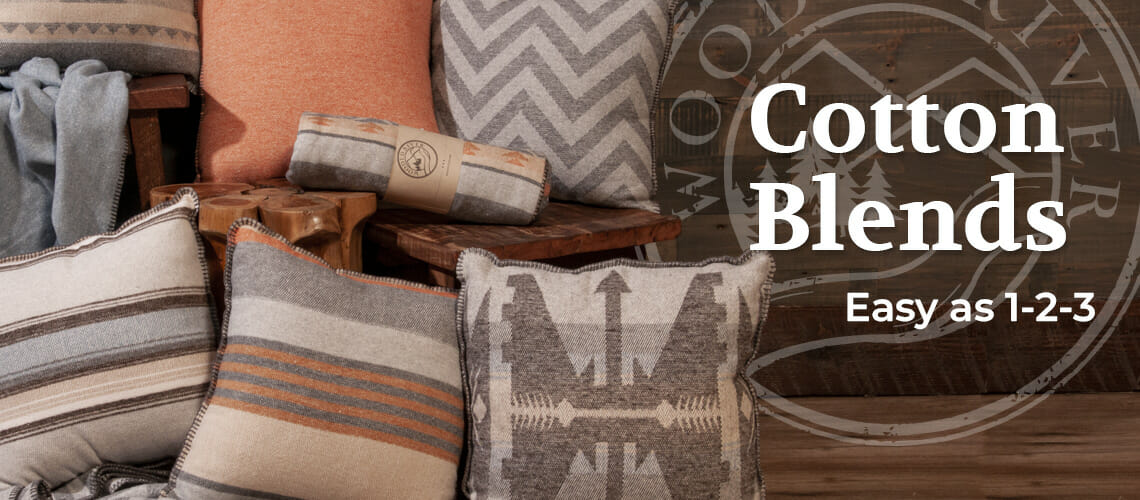 07 Mar

Cotton Blends: Easy as 1-2-3!

Our new Cotton Blends take inspiration from parts of America. From the soft white and grays of an Alaska winter, the sunset oranges of Arizona, or the calm blue sky of the Dakotas, each of the 9 available patterns can be used to make a distinct bed ensemble.
8 reasons to select Wooded River's cotton blends
1. Make a complete bed ensemble
With bedspreads, euro shams, and décor pillows, you can create a full bed ensemble. Toss in a throw or two to really complete the bed.

2. Easy mix and match
No guessing is needed when matching across each collection. Each of the 9 patterns were made with all the others in mind. This means choosing a bed ensemble can be rewarding in customization and with little work.

3. Light and airy colors and patterns
Not only are these cotton blends lightweight, but they feature light and airy colors and patterns making them appealing to the eye on top of being really comfortable.

4. Machine washable
These lightweight cotton blends are easy to clean. Simply machine wash in cold water on a gentle cycle and hang to dry.

5. Intentionally Supersized Bedspreads to Avoid Shrinkage
With the potential of cotton shrinking, we offer our bedspreads in "super" sizes to plan on a 5% average shrink rate.

6. Recycled fibers
In our ongoing commitment to the environment, our cottons are made of recycled fibers. This collection makes it easier to sleep at night not only with its comfortable fabrics but with a promise to keep the environment in mind and fabric out of landfills.

7. Decorative blanket stitched finish
Not only does the blanket stitched finish add a design element to our cotton blends, it also prevents any curling or fraying on the edges for a longer lasting product.

8. Expertly crafted
Like in all our products, these cotton blends are sewn in the United States by expert craftspeople with patience and attention to detail to ensure the best quality and construction of our bedding ensembles, throws, and more.
Want to learn more about these blends? Contact us or your account representative today.